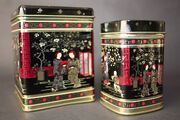 Want to keep your tea fresh and flavoursome? There are five main enemies to tea: light, air, heat, moisture and odour. The best way to store tea, be it loose tea or tea bags, is in an airtight container kept in a dark, cool and dry environment. Tin cans and ceramic canisters with airtight lids are excellent choices for long-term storage. Glass or clear plastic containers are not good places for keeping tea
Ad blocker interference detected!
Wikia is a free-to-use site that makes money from advertising. We have a modified experience for viewers using ad blockers

Wikia is not accessible if you've made further modifications. Remove the custom ad blocker rule(s) and the page will load as expected.