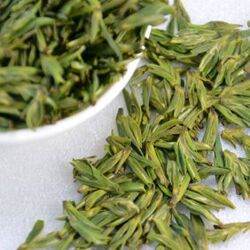 Xu Fu Long Ya
is a fairly new tea, having just been introduced by Xu Fu Tea Industry in 1997. In the short few years, it has already won multiple awards and is now one of Si Chuan province's Top Ten Tea. The name Long Ya literally translates to "Dragon Tooth", a name given due to the unique appearance of the leaf, which resembles the fang of a dragon. This tea is special not just for its exceptional quality, but also for its reputation as one of the earliest spring tea to hit the market every year.
The tea leaves are hand-plucked by Miao Minority young ladies with small hands and fingers in the middle of February every year and processed by Xu Fu Tea Industry's best tea masters. The organic tea farms have been around for around 1600 years. These farms are located high in Xi Huang Shan (West Yellow Mountain) between 1200 to 1350 meters. Only the leaves from such high elevation farms can have such vibrant emerald-green color. A harvest from 60 acres farm land can only produce 500 grams of Xu Fu Long Ya.
This tea is certified organic by China Agriculture Quality Department and adheres to ISO 9001:2000 standards for quality management. This is the absolute finest grade from the company.
Ad blocker interference detected!
Wikia is a free-to-use site that makes money from advertising. We have a modified experience for viewers using ad blockers

Wikia is not accessible if you've made further modifications. Remove the custom ad blocker rule(s) and the page will load as expected.