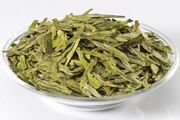 This is China's most famous tea and simply the best of all Long Jing variety. Xi Hu Long Jing has more than a thousand years of recorded history and was mentioned in the first ever tea book (Cha Ching) by Lu Yu during the Tang Dynasty. So popular that even Queen Elizabeth II, former US President Richard Nixon, and Henry Kissinger once tasted this tea during their visit to China. Lion (Shi) is one of the most famous brand in Hang Zhou for Xi Hu Long Jing. This brand name has become a synonym for quality Xi Hu Long Jing. The tea leaves are from the second degree protected farms within the designated 168 sq km of Xi Hu area, thus the price is much more affordable. Now, everyone can enjoy China's number one tea.
Other names:
Lion Brand West Lake Dragonwell, Shi Pai Xi Hu Lung Ching
Taste:
The pleasant aroma is refreshingly light with a hint of fruit and nut combined. The aftertaste is almost instantaneous, filling your mouth with a sweetness reminiscence of grape fruit.
Appearance:
Exquisite flat and narrow emerald green tea leaves. 1 bud and 1 to 2 leaves variety. The tea leaves easily sink to the bottom of the cup during infusion.
Origin:
Xi Hu, Zhejiang Province, China
Harvest Period:
Spring 2013 (Ming Qian Cha)
Website:
www.artisoo.com
Ad blocker interference detected!
Wikia is a free-to-use site that makes money from advertising. We have a modified experience for viewers using ad blockers

Wikia is not accessible if you've made further modifications. Remove the custom ad blocker rule(s) and the page will load as expected.