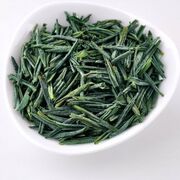 This is the absolute best grade of Liu An Gua Pian from Anhui Liuan Guapian Tea Industry, one of the China's Top 100 Tea Factory and widely regarded as the best Liu An Gua Pian tea producer in the country. Liu An Gua Pian tea is a very old tea with history dating back to the Ming Dynasty (1368-1644). It had always been a famous in China even in ancient times, where it was highly praised by scholars and people in the Imperial family. History records suggest that Empress Dowager Cixi (Qing Dynasty) was extremely fond of this tea, consuming almost 14 liang (about 700 grams) every month. Gua Pian tea was also mentioned repeatedly (80 times!) in the renowned Chinese Novel - "Dream of Red Mansion". It was selected as the National Gift Tea to the United States Secretary of State during his visit in 1971 when People's Republic of China was just established.
Cha Wang grade Gua Pian tea leaves are harvested only from organic farms in high mountainous areas that are above 600 meters above sea level. This tea is categorized as "Tian" (Heaven) Grade by the company, representing the highest grade. Below it are "Di" (Earth/2nd grade) and Shan (Mountain/3rd grade). Cha Wang Liu An Gua Pian is certified organic by Zhong Xing Product Certification Company.
Reference: Visit Chineseteaart.com to find your favourite Chinese Green Tea.
Ad blocker interference detected!
Wikia is a free-to-use site that makes money from advertising. We have a modified experience for viewers using ad blockers

Wikia is not accessible if you've made further modifications. Remove the custom ad blocker rule(s) and the page will load as expected.