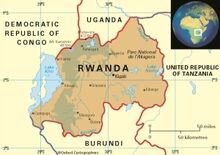 Tea is Rwanda's largest export. The fertile volcanic soil and temperate climate are perfect for growing the plants that create this popular drink. Tea leaves can be seen covering the mountains – creating a stunning contrast to the blue skies, dirt roads and sunshine. Visitors can discover how tea is harvested, processed, and even get to taste the results. Tea plantation tours take 
place in a variety of locations 
across Rwanda, with the major
 ones being around Nyungwe 
National park: Gisovu and 
Gisakura.[1]
A common Rwandan tea would be that of Rukeri, a tea similar to Assam or Kenyan tea. Comprised of pretty, young leaves with some tips. Dry leaf aroma is sweet with notes of biscuits and fruit. The liquor is full bodied, malty and lively with delicate astringency. Layered notes of currants, toasted bread and caramel in the finish make for a well-rounded cup.[2]
Tea was introduced in Rwanda in 1952.
60% of Rwanda Tea is sold in Auctions, 37.3% is sold directly and 2.7% is sold locally. Approximately 97.3% is exported in raw form.
Rwanda tea has gained enormous global acceptability because of its quality. The following factors contribute to its quality:
Rwandan climate.
Abundant rainfall of 2m per year on average.
Acidic soils of pH 4.5 to 5.5.
Rwandans have a culture of drinking tea especially in the morning and evening. 99% of the tea Rwandans consume is black tea.
List of Rwandan Tea Factories
Edit
Mulindi
Shagasha
Gisakura
Pfunda
Cyohoha Rukeri (Sorwathe)
Kitabi
Mata
Rubaya
Nyabihu
Gisovu
Nshili-Kivu
References
Edit
Ad blocker interference detected!
Wikia is a free-to-use site that makes money from advertising. We have a modified experience for viewers using ad blockers

Wikia is not accessible if you've made further modifications. Remove the custom ad blocker rule(s) and the page will load as expected.