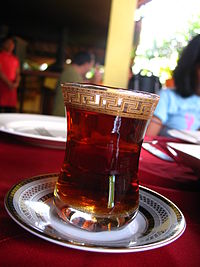 Rize Tea is black tea from Turkey, specifically the Rize province of Turkey. It is used in Turkish tea. The popularity of this tea rose in 1923 when coffee became more expensive, due to the fall of the Ottoman empire.
The Wikipedia page is [1].
It can be bought from a number of sources.
Ad blocker interference detected!
Wikia is a free-to-use site that makes money from advertising. We have a modified experience for viewers using ad blockers

Wikia is not accessible if you've made further modifications. Remove the custom ad blocker rule(s) and the page will load as expected.