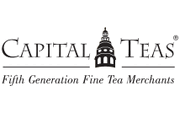 Capital Teas
is a company headquartered in
Annapolis, Maryland
,
United States
, doing business over the Internet and in a small number of stores in the State of
Maryland
and the
District of Columbia
.
They sell all kinds of tea: green, white, black, oolong, rooibos, maté, fruit tisanes, and Herbal teas, as well as other related products.
Capital Teas was founded in the summer of 2007 by Manelle and Peter Martino of Annapolis, Maryland. Manelle Martino is the great-great-granddaughter of Francis Van Reyk, a Dutch tea planter who emigrated to Ceylon (now Sri Lanka) and managed the Diyagama Estate in the Dimbula region in the late nineteenth century. Among Van Reyk's descendants are the owner/operator of Elmstock Tea Company in Australia (the fourth generation of the family) and Manelle Martino, the fifth generation. Among the 120 types of loose tea that Capital Teas sells is one entitled Great-Grandfather's tea, a BOP black Ceylon tea imported from the very tea estate managed by Francis Van Reyk.
Capital Teas' first store in downtown Annapolis is just one block from the Maryland State Capitol (illustrated at the center of the Capital Teas logo), the nation's oldest Capitol in continuous use. The building where Capital Teas first started selling teas is itself a historic building, over three hundred years old. The Martinos built it out to resemble an old English tea shop such as might be found in central London.
Company website
The Capital Teas website is https://www.capitalteas.com/Default.asp.