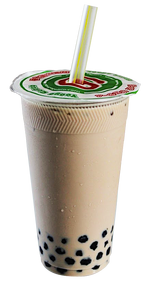 See also Bubble tea at Wikipedia.
Bubble tea is the name for pearl milk tea and other similar tea and juice beverages that originated in tea shops in Taichung city, Taiwan during the 1980s. Drink recipes may vary, but most bubble teas contain a tea base mixed with fruit (or fruit syrup) and/or milk. Ice-blended versions of the drinks, similar to slushies, are also available, usually in fruit flavours. 'Pearl milk tea' contains balls of tapioca starch.
Ad blocker interference detected!
Wikia is a free-to-use site that makes money from advertising. We have a modified experience for viewers using ad blockers

Wikia is not accessible if you've made further modifications. Remove the custom ad blocker rule(s) and the page will load as expected.