See also: British tea culture at Wikipedia.
Since the 18th century the British have been the largest per capital tea consumers in the world, with each person consuming on average 2.5 kg per year. The popularity of tea occasioned the furtive export of slips, a small shoot for planting or twig for grafting to tea plants, from China to British India and its commercial culture there, beginning in 1840; British interests controlled tea production in the subcontinent. Tea, which was an upper-class drink in Europe, became the infusion of every class in Great Britain in the course of the 18th century and has remained so.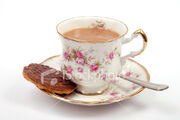 As tea spread throughout the United Kingdom in the 19th century, people started to lay out tea gardens and hold tea dances. The tea gardens lost value after World War II but tea dances are still held today in the United Kingdom.
In Britain tea is usually black tea served with milk (never cream; the cream of a "cream tea" is clotted cream served on scones, usually with strawberry jam, a tradition originating from Devon and Cornwall). Strong tea served with lots of milk and often two teaspoons of sugar, usually in a mug, is commonly referred to as builder's tea. Much of the time in the United Kingdom, tea drinking is not the delicate, refined cultural expression that the rest of the world imagines—a cup (or commonly a mug) of tea is something drunk often, with some people drinking six or more cups of tea a day. Employers generally allow breaks for tea.
References
Edit
Ad blocker interference detected!
Wikia is a free-to-use site that makes money from advertising. We have a modified experience for viewers using ad blockers

Wikia is not accessible if you've made further modifications. Remove the custom ad blocker rule(s) and the page will load as expected.